After leaving university in 2014 with a BA Honours Degree in Creative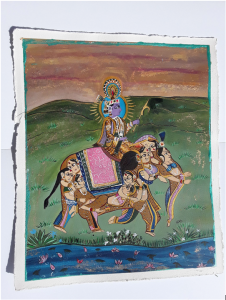 Arts, I have been lucky to embark on a magical artistic journey.
Discovering a variety of practices and exploring many art forms, my work is constantly changing and I am forever stepping out of the safety zone. I'm always exploring different forms, from medieval to modern.
I'm extremely interested in wild life, humanity, social ideals as well as historical realities.
I would describe myself as a mixed media artist/ printmaker. In my mixed media work I use a variety of materials. After a recent trip overseas I have, for a few months, been exploring the wonders that India has to offer.
As a freelance artist I'm very involved within the local community, offering classes and workshops, with a heartfelt focus on equality, compassion and empathy.
I have twice won the Andover arts society president award. Oscar winner for up and coming surface designer, Pride of Andover high commended award ( inspiring others) People favourite award 2018, Winner of jewellery design competition.