Ruth Kay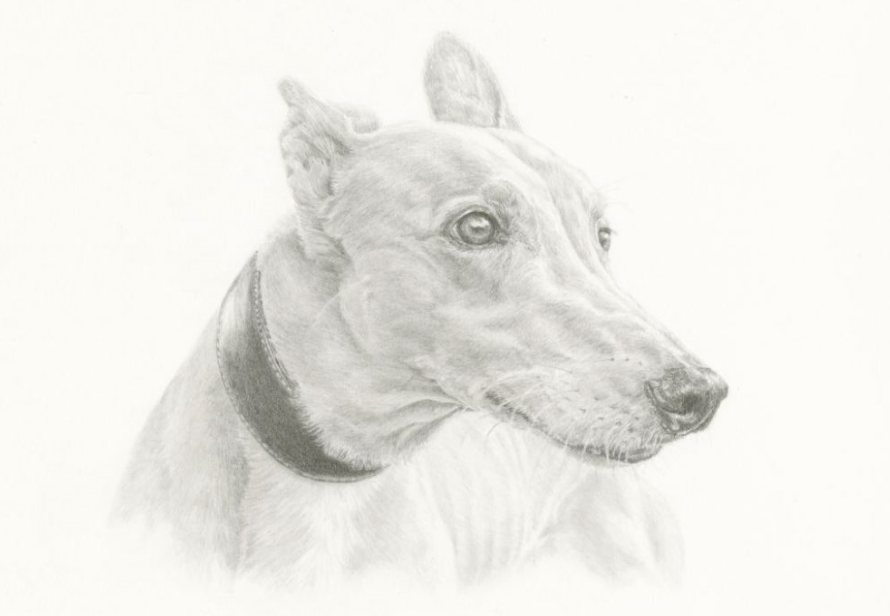 Leaving her hometown to pursue a career as an apprentice Jockey, for trainers Jack Berry, Mick Easterby and Mikey Heaton-Ellis, was when Ruth fell in love with the countryside. She had always wanted to be outdoors, and working with horses allowed her to take in her new surroundings. After 10 years, Ruth left racing to have a family, then shortly after started working in eventing, and eventually working for a hunting family. Ruth has drawn much of her inspiration from spending so much time amongst her two passions, nature and animals. Whenever there was time, she would pick up a pencil and work on her art, something she has enjoyed since school. Now Ruth has been developing her art and taking her skills even further, working with different media to create stunningly realistic drawings, sketches and paintings.
Alex McGarry
Alex McGarry is an award winning professional artist, who specialises in painting contemporary landscapes. She has been painting since she was a young girl – completing her first oil painting at
just nine years old! In her early career Alex successfully passed a National Diploma in 3D Design, following which she worked as an Interior Designer for three years. During this time she produced all the paintings for new show homes for an international building developer.
In 2008 and as a direct result of her success, Alexandra launched a career as a full time artist and began exhibiting her work around the UK. She is a member of several art societies including the prestigious Marwell International Wildlife Art Society (MIWAS). In 2009, Alexandra's painting 'Horses in the Snow' won the public vote for 'Best in Show' at the Mottisfont Abbey exhibition from among 200 exhibited paintings.
In May 2010 Alexandra took up residency for six months at the Weyhill Design Centre near Andover in Hampshire. At the end of 2013 Alex became the editor for the Marwell International Wildlife Art Society's biannual magazine. Currently she works from her studio at home producing paintings for exhibitions and galleries.
Gale McGarry
'Traditional with a Contemporary Twist!'
Gale McGarry is a contemporary British realist artist creating original oil paintings from her studio based in rural Hampshire. Gale's ability to capture colour, light and form in her pictures and drawings has contributed to her growing reputation as a new and emerging talent.
Gale's style is unique and cannot be neatly categorised – it is both modern and traditional, realist and surreal, contemporary and classical.
Gale is currently developing her art along a number of different themes, which are reflected in her website.
Her fruit paintings – bright, colourful, detailed studies of grapes, strawberries, cherries, plums, figs and raspberries – leap off the canvas. As a painter, she aims to capture with paint and canvas all the lusciousness of a piece of fruit in its perfect ripeness.
Gale's flower paintings include detailed close-up interpretations of wild and garden flowers such as convolvulus, peony and honeysuckle, as well as some surreal pieces.
Gale's other passion is painting people. Her formal and informal portraits beautifully capture the faces and characters of her subjects.
Besides modern oil portraits and drawings, Gale also paints 'historical' portraits, mainly based on the seventeenth century – the period of the English Civil War. Her subjects are the ordinary people of the era, their costumes, artefacts, activities and surroundings.
Gale's original paintings are available to buy from her website, and can be ordered by email via the Contact Me page. Gale is also happy to accept commissions for portraits, paintings and drawings to the client's individual specifications.
Pip McGarry
Recognized as one of the world's leading wildlife artists, Pip has an international reputation for his oil paintings of big cats and African game
Pip first came to prominence in 2004 with his popular seven part series on Meridian Television called 'A Brush With The Wild', which was co-presented by Anneka Rice. The programme was filmed on location both in Kenya and at Marwell Wildlife in Hampshire, with Pip teaching celebrities such as Christine Hamilton, Linda Robson, Jenny Eclair and Nerys Hughes how to paint wildlife. Pip is the Chairman of the largest wildlife art society in Europe and has been the 'Artist-in-Residence' at Marwell Zoological Park in Hampshire for more than twelve years.
He has organized and led more than twenty safaris for wildlife artists and photographers to the remote game reserves of Northern Botswana, Tanzania and Kenya . Morer than thirty of his original paintings have been sold at international fine art auctions and in May 2008 his painting 'Flight of the Zebras' sold for £29,300.00 (57,985.00) at Christies in London.
His recent 'sell out' solo exhibition at the Haddon Galleries in Torquay in 2013 produced six-figure sales with his 'White Tiger' portrait selling for a record £40,000.00. For the fourth year in a row, Pip has been one of the judges for the BBC 'Wildlife Artist of the Year' and for the last two years, the prize for the winning artist was to travel with Pip to Botswana on safari.
Over sixty limited editions of his work have been reproduced by major fine art publishers, his paintings are now published in the UK by Haddon Fine Art Editions of Torquay.
Jane Rist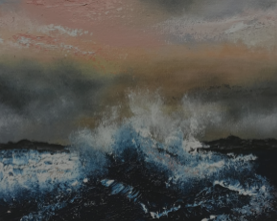 Jane's work is best described as a series abstract landscapes and seascapes, in which she hopes to evoke the mood of a place rather than a realistic representation. She is inspired by her surroundings, both in Hampshire and Cornwall, to create both large (100x120cm) and small (30x25cm) works. She has been painting for the last ten years, both portraits and landscapes, in oils. She started her artistic career studying at Andover College, gaining a Foundation qualification as well as being nominated for the Artist of the Year at the final show, before continuing her studies at London's Art Academy. She was runner up in their Philip Trousell Prize and the work acquired for their permanent collection. Since graduating she has exhibited in London, Hampshire and Cornwall in self-curated shows, as well as with Llewellyn Alexander in Waterloo and Bils & Rye in Yorkshire. She takes commissions for portraits and landscapes.
Claire Scull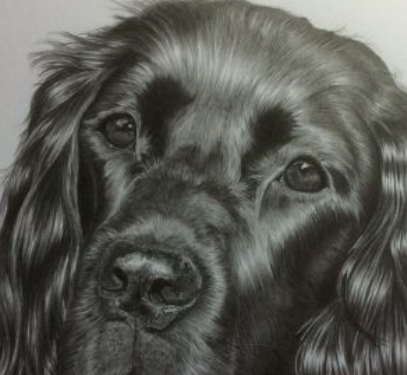 Born and bred in the beautiful Hampshire's Bourne Valley, I had several different jobs, including Groom, Housekeeper and Housing Officer, before having a complete change in 2014 and starting my own business, Pet Sitting and doing pet commissions.
I rekindled my love of drawing and called my company Scullywoofwoof. I now have a range of cards, Mugs, quality prints and Cushions with my designs on them.
I do pet commissions in graphite pencil and colour pencil. My range of cards include birds, wild animals and Horses.
I am really happy that I have won a place in the Sheep Shed Gallery Alchemy open studio Hampshire 2019. Some of my work will be on display there in August this year.
Kaz Trinder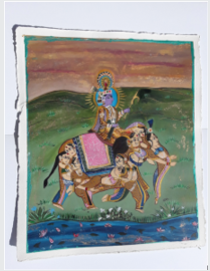 After leaving university in 2014 with a BA Honours Degree in Creative Arts, I have been lucky to embark on a magical artistic journey.
Discovering a variety of practices and exploring many art forms, my work is constantly changing and I am forever stepping out of the safety zone. I'm always exploring different forms, from medieval to modern.
I'm extremely interested in wild life, humanity, social ideals as well as historical realities.
I would describe myself as a mixed media artist/ printmaker. In my mixed media work I use a variety of materials. After a recent trip overseas I have, for a few months, been exploring the wonders that India has to offer.
As a freelance artist I'm very involved within the local community, offering classes and workshops, with a heartfelt focus on equality, compassion and empathy.
I have twice won the Andover arts society president award. Oscar winner for up and coming surface designer, Pride of Andover high commended award ( inspiring others) People favourite award 2018, Winner of jewellery design competition.